As the CES 2020 finished just before COVID-19's global lockdown up recently, we were lucky enough to get a glimpse at the Future of Beauty Gadgets. While many gadgets still haven't hit the mass market, there are many Beauty Gadgets currently on Amazon that offer results on a budget. We compiled our favorites Beauty Gadgets that deliver results with a high tech twist.
This cool Skin Gym Luminis Facial Pro Ultrasonic Exfoliating Wand ($119) is like a skin spatula that uses bio blue light, microcurrents, and ion technology to deeply exfoliate clogged pores. It resonates at 28,000 vibrations per second.
Personalized Skincare System by SHISEIDO
Optune is one of those IoT personalized Beauty Gadgets systems that offers 80,000 skincare patterns matched with individual user's daily skin conditions and living environments which change day to day.
◆A dedicated application (hereinafter, the "app") for iPhone*2 uses an original algorithm to analyze skin condition data and environmental data (temperature, humidity, etc.) as well as sleep data to detect biological rhythm disruption. The results of analysis are sent to a dedicated machine which provides optimal skincare fitting one's current conditions.
◆This is Shiseido's first Beauty Gadgets subscription service, with a monthly charge of 10,000 yen (tax excluded). Users can sign up for the service on Shiseido's dedicated website.
Price: TBC in September 2020
Personalized Skincare System by L'Oreal
This smart device creates custom formulas for lipstick, foundation, and skin care. As per all Beauty Gadgets, the experience starts with an app. First, the customer will take a photo of her face with the Perso app, which will use AI to identify skin conditions like dark spots, large pores, or wrinkles. Then the app crunches location data to adjust for environmental concerns that affect skin, including pollution, pollen, and UV index. Finally, the user enters her skin-care goals, like eradicating dark spots or dullness. The data is pulled into a custom formula and, using its three-ingredient cartridges, the device will cook up your formulation and dispense it in a single-use dose.
Price: TBC in July 2020
Acunputure Face Mask by Secret810
Beauty Gadgets made in Korea. This new device blend technology and K-beauty together to bring you acupuncture from the comfort of your sofa. According to their website: " The Dual action of the Secret 810 guarantee absorbing of enzymes into the skin thanks to the ion-zyme technology.However, more details will be needed as this Korean start-up expand its product reach to Western countries.
Price : 300$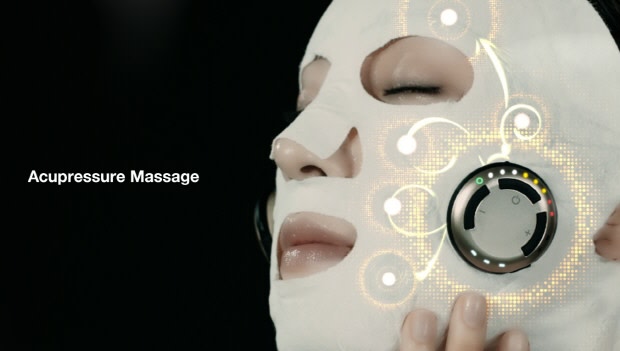 Smart Vanity Mirror by HiMirror
The HiMirror Plus is part of the Beauty Gadgets smart mirror revolution. This device that'll scan your face and tell you what's wrong with it. It looks for wrinkles, red spots, pores, fine lines, and brightness levels. The mirror's a harsh critic, yes, but the idea is that you'll track your skin as you change beauty products, so you'll know what's working and what's not. Also, you can watch yourself slowly age! That's fun. The mirror rates each part of your skin on a scale of 100 with 100 representing skin perfection
This Beauty Gadgets Price: 350$