Every day approximately 8 million pieces of plastic pollution find their way into our oceans. 30% of those comes from disposed Beauty Products.
Now go up to your bathroom shelf , and try to count how many of your favourite beauty products are contained in plastic containers  – from your fav' hand cream to to your everyday lip balm , deodorant and cotton buds.
While doing Plastic Free July this summer, I found that the hardest products to swap out were the beauty products and toiletries we used every day. 
But there are plenty of Zero Waste Beauty Products and small companies that are changing that as the plastic-free movement grows.
I've continued to incorporate those Zero Waste Beauty Products into our routine over the past couple of months to give them a thorough testing and give them the Zero Waste Beauty Products seal of approval.
Here are the best alternatives we found.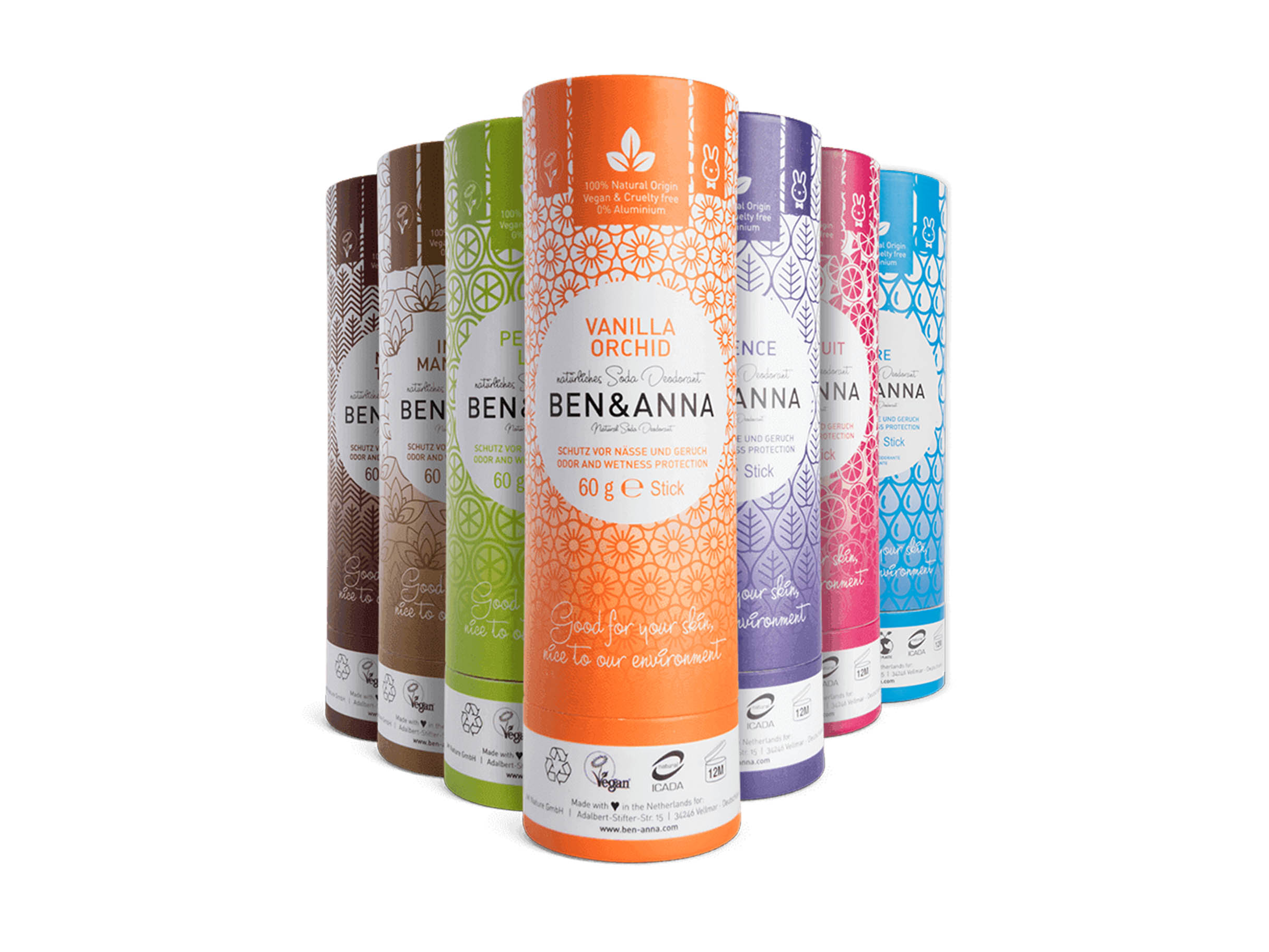 As one of the only brands offering a plastic-free option for deodorants, this Germany-based company has designed its push-pop style cream stick, and it's a godsend.
Coming in seven scents, we prefer the original one, "Pure". They are all made from natural ingredients like shea butter and soda, and aren't tested on animals.
It's a smooth application and stops any odour from occurring. Once you've finished, you can recycle the cardboard after washing it.
I have not personally tried Axiology, but I think their colors are stunning. Plus, they have some really fun selections! 
I find that a lot of Zero Waste Beauty Products, tend to stick to more sophisticated palates. If you're into bold, fun color - this is definitely the brand for you. 
Their lipstick tubes are made from recycled aluminum. They can be recycled at the end of their life. The lipstick tube comes in a paper box created by a woman-owned recycled paper boutique in Bali. The box can be recycled or composted. 
The company is vegan and cruelty free. According to their website, the also donate a percentage of their annual profits to partners like Orangutan Foundation International, PeTA, and other humane societies. Find out more HERE
Kjaer Weis is one of my favorites! All of their products are organic and they're not tested on animals.
I have three of their eyeshadows and their refillable mascara. I get a lot of instagram DMs from people asking me about my eye makeup. It is ALL Kjaer Weis. Kjaer Weis also offers refills. 
Their compacts are made out of stainless steel instead of bamboo. Stainless steel has a 100% recycle rate. 
If your bathroom is humid, like mine, I recommend the stainless compacts over the bamboo ones. Don't get me wrong, I love bamboo! But, when I store bamboo under my sink, it can get pretty moldy. 
Their refills are packaged in compostable paper. 
Whenever I finish my mascara, I make sure to send my wand to the Appalachian Wildlife Refuge.  For more Kjaer Weis offers click HERE
I LOVE Corpore Sanctum. Corpore Sanctum is mostly a skincare brand, but they do have a couple of cosmetic products that use only glass or cute reusable containers.
I use Corpore Sanctum Zero Waste Beauty Products day today. I love their Bunny Mist. The tingling sensation really gives me a "lifting" effect. 
The brand even created their latest Toki Clean Collection  in partnership with The big blue Ocean Clean Up  which HAVE REMOVED OVER 2 MILLION KG OF RUBBISH FROM THE OCEANS.
Besame has really intrigued me since seeing a video of how their products are made on site in LA. They make products with vintage replication. This means most of their products are Zero Waste Beauty Products. 
In the video you saw them fill their lipsticks. I'm really curious if you could go back for a refill? 
The colors are absolutely stunning. I am also very curious about their cake mascara. 
I haven't tried Besame yet, but they're definitely on my list. Next time I'm in LA, I would love to visit their shop. 
I've always loved vintage style, and as a bonus there was less plastic back then too! 
Vanderohe's No1 Nourishing Face Serum has been one of my favorite discoveries this year.
The exceptionally sourced, plant based, face oil comes in a dark glass bottle and is handcrafted in London. Their Zero Waste Beauty Products are packed Inside the bottle are food grade, wild harvested, cold-pressed essential oils that will rejuvenate even the tiredest face. A plastic free, travel essential.