The outbreak of coronavirus disease 2019 (COVID-19) is a stressful time for all of us. Fear of being furloughed and anxiety of Lockdown: all those are overwhelming factors that can cause emotional and physical distress to your skin.
 Coping with Coronavirus' Lockdown depression will make you, the people you care about, and your community stronger.
And while it would be near-impossible to banish that stress, trying to manage Lockdown is paramount.
The effects it has on our skin is far more realistic than attempting to stop or reverse time – which is why anti-stress skincare is being hailed as the new anti-aging.
Statistics show that 85% of UK adults suffer from anxiety or depression linked to COVID-19 Lockdown : so it's no wonder that an increasing number of consumers are seeking products that manage the negative effects on the skin. "COVID-19 Lockdown has filled people with more stress than ever before. 
When our minds and bodies become overwhelmed, signs of tension begin to appear everywhere – including our faces," explains Anastasia Achilleos, renowned facialist and aesthetician at The Lanesborough Club & Spa in London.
The emerging field of psychodermatology is proving that there is science behind the skin-brain connection. "It can be explained via the hypothalamic-pituitary-adrenal (HPA) axis," says Dr Alia Ahmed, psychodermatologist at The Royal London Hospital. 
Put simply, the HPA axis is where the brain and its emotions overlap with the hormone system. "When the brain is stressed and releasing excess stress hormones [like cortisol] it triggers imbalances that can lead to inflammation, allergies and skin disease," says Ahmed.
If you're looking for something other than a sheet mask, The Light Salon ExpressLED Skin Health and Rejuvenation Facial, £35 for 20 minutes, is available at Harvey Nichols. 
It's a non-invasive facial that uses yellow and near-infrared LED light energy to boost collagen, elastin and hyaluronic acid while simultaneously lowering stress levels and boosting your mood.
La Mer Treatment Lotion Hydrating Masks
The Light Salon ExpressLED Skin Health and Rejuvenation Facial
Swiss Clinic Skin Renewal Treatment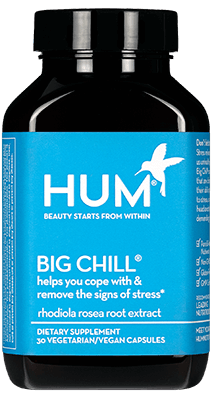 Stress is a key cause of sudden breakouts. Cortisol can stimulate pore-clogging oil production, as well as inflammatory acne. The cause can be traced to the microbiome, the bacterial ecosystem which lives in your gut. 
Studies show that lockdown induced stress  can confuse the gut's bacterial balance, allowing acne-related bacteria to flourish and worsen the effects you see in the mirror.
"Stress-related gut inflammation can also cause mucus levels in the gut to go from healthy to a level where unhealthy fungi – like candida – can flourish. On your face this shows up as blocked pores, increased oil production or general congestion," explains facialist Marie Reynolds.
The Bamford De-Stress Massage, £90 for 55 minutes at Bamford Spas nationwide, is designed to calm the body and mind. Shiatsu, Meridian and Swedish massage techniques are combined to revitalise the body and help drain the toxins that stress can cause the body to hold onto. 
If you fancy a daily spa experience at home, Charlotte Tilbury Goddess Cleansing Ritual, £32.50, contains a vitamin C-infused oil cleanser to boost radiance and a purifying charcoal cleanse to draw out impurities for a spa-like clean feeling.
Bamford De-Stress Massage
Corpore Sanctum - Rebalance Me Sleeping Mask
Created to Maintain the correct pH balance, the REBALANCE ME  Sleeping mask wil reset your skin's PH. Packed with relaxing essential oils and active Aloe Vera skincare ingredients, this night gel help to soothe eczema, psoriasis & chronic dry skin.
Stress and anxiety can cause tension in the facial muscles which can, in time, actually change the shape of your face. "I can instantly tell if someone is stressed just by feeling their masseter muscle," explains facialist Michaella Bolder. 
"The masseter muscle, which sits just above the jawline, should feel bouncy, but if someone is clenching their jaw (a common reaction to stress) this can cause the muscle to feel rigid and stiff. 
If you react to stress by clenching your jaw, this can, over an extended period, build up the masseter muscle making the back of the face appear wider and more square." A clenched jaw can also cause tooth pain, achey shoulders and headaches.
To relax a tense muscle, use the knuckles on your index finger to knead it. Support your head with a pillow as you massage to avoid causing further strain in your neck and shoulders and use enough pressure so that the skin looks slightly pink when you're done. 
Try adding a few drops of Decléor Aromessence Neroli Amara Hydrating Oil Serum, £48, to palms and inhaling for three deep breaths. Nourishing sweet orange and neroli essential oils will produce a feeling of calm.
Decléor Aromessence Neroli Amara Hydrating Oil Serum