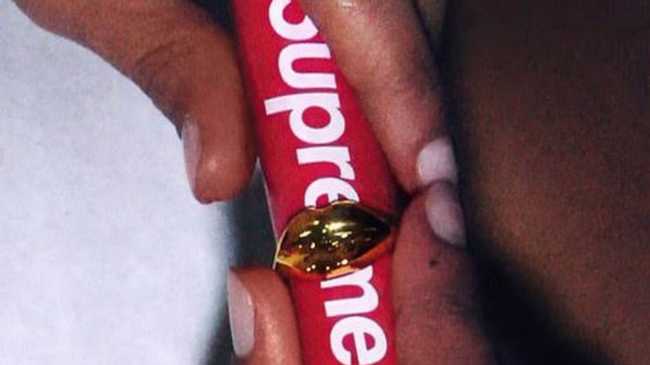 Supreme are the true masters of collaboration. Be it legendary artists like Nan Goldin and Leigh Bowery or luxury brands like Louis Vuitton, the New York skate stalwarts have spent three decades mastering the crossover, even if it sends them into realms unknown (see: an upcoming, Supreme-branded Colgate toothpaste).
But their latest collaboration does make a lot of sense. 2020 has seen the beauty industry almost take over fashion in terms of talked-about link-ups. And so Supreme have responded: they're about to launch a coveted, new lipstick -- courtesy of the make-up guru Pat McGrath -- that you can cop, from last week, via the Supreme site.
The hyper-pigmented lipstick, which comes in a bright, box logo red shade, is part of Pat's famed MatteTrance™ range that gives a bold, matte lip with one application. It comes in rouge, Supreme-branded packaging, sealed -- as all of Pat's MatteTrance colours are -- with a set of golden lips.
Supreme have just unveiled their teaser for the collaboration on their Instagram page. It's the first glimpse of what the lipstick looks like when applied; something that will pique the interest of the more progressive figures in the streetwear scene. The power of the brand will inevitably be measured by how quickly this collaboration will be snapped up: don't be surprised if even the most die-hard fans miss out on this future relic of Supreme history.